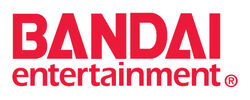 Bandai Entertainment is a defunct subsidiary of Bandai America, founded in 1998.[1][2][3] Their first releases were under the AnimeVillage.com label up until 1999 when Bandai Entertainment started releasing its titles.
History
Establishment
Despite its name it was not directly established by Bandai Visual. Originally separate from Bandai Visual USA, Namco Holdings announced that Bandai Entertainment would absorb Bandai Visual USA in 2008.[4] Headquartered in Cypress, California, it licensed anime properties from various Japanese companies for North American distribution; most of those licenses coming from Bandai and its sister company Sunrise. The company also licensed manga series for release with English translation, and published American-made graphic novels.[5][6]
Distribution
As with many North American anime distributors, Bandai Entertainment offered a 'fan support' program to facilitate public screenings of licensed content at anime clubs and anime conventions.[7] The company confirmed on January 2, 2012 that they would stop offering new DVD, Blu-ray disc and manga releases by February, but would continue to produce their current library of content. Bandai Entertainment was restructured to focus on licensing anime to other companies.[8]
Closure
On August 30, 2012, Bandai America announced that it will shut down Bandai Entertainment and discontinue distributing their home video and print catalog on March 1, 2013. They made their final shipment to retailers on November 30, 2012.[9] Many former Bandai Entertainment titles have been re-licensed by companies like Funimation, Discotek Media, Nozomi Entertainment & Sentai Filmworks. In 2017, Bandai Entertainment was temporarily revived by Manga Entertainment to release both seasons of Ghost in the Shell: Stand Alone Complex on Blu-ray.
References