SERIES NAVIGATION
A note about editing the Outlaw Star Wiki
Considering the rarity of information for Outlaw Star, Angel Links and Space Hero Tales, it is important to cite your sources and create external links within the articles. The obscurity of information, typically limited to Japan, makes falsifying information incredibly easy for users with less than honorable intentions and trolls
Improving the Outlaw Star Wiki
If you're uncertain about something and would like help, the Community Forums is primary location on the Outlaw Star Wiki to get your questions answered. The forums are also a place of casual discussion and fandom fun. Don't be afraid to start a conversation, or ask about what needs to be done and what tasks are required to complete or improve the Outlaw Star Wiki.
If you are new to Wikia, check out the Central Community's Video Tutorials.
Check out the Insights Page' for what needs to be created and repaired on the Wikia
Find out more about the wiki on the About page.
Please defer to the Policies pages for rules and regulations of the Outlaw Star Wiki.
With help from fans like you, we strive to become the most comprehensive source of Takehiko Itō information available!
<createbox> width=24 break=no buttonlabel=Create new article </createbox>
Featured Article
| | |
| --- | --- |
| | Angel Links (星方天使エンジェルリンクス, Seihō Tenshi Enjeru Rinkusu?, lit. "Angels of the Stars: Angel Links") is 1999 animated television series produced by Sunrise Studios. Originally aired in Japan on the WOWOW television network, April 7 to June 30, 1999, Angel Links is a spin off the anime adaptation of Outlaw Star, set in the Toward Star universe. [Read More] |
About Outlaw Star
| | |
| --- | --- |
| | Outlaw Star (星方武侠アウトロースター, Seihō Bukyō Autorō Sutā?, lit. "Starward Warrior Knight Outlaw Star") is a 26-episode anime adaptation of the original Outlaw Star manga written and illustrated by Takehiko Itō. Outlaw Star tells the story of a would-be Outlaw, Gene Starwind and his partner Jim Hawking, and their pursuit to become rich and famous when they come into possession of state of the art Grappler-ship, the XGP 15A-II. [Read More] |
Featured Character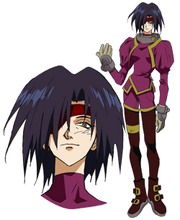 "Hot Ice" Hilda (熱き氷のヒルダ, Atsuki Kōri no Hiruda?) was an outlaw with an enigmatic past and a sworn enemy of the Kei Pirate Guild and the MacDougall brothers. Prior to landing on Sentinel III, she stole the prized possession of the Kei pirates, the XGP 15A-II and a bio-android named "Melfina". [Read More]
Affiliates
To request to become an affiliate with Outlaw Star Wiki click here.