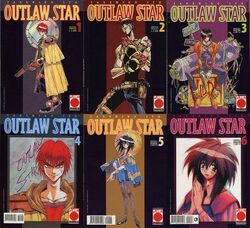 Planet Manga[1] is a publishing division apart of the Italian comic book publisher division, Panini Comics. The later is a division of the Panini Group.
Best known for their collectible stickers, Panini Comics is located in Modena, Italy.[2] The company publishes comic books in over eight countries, including the United Kingdom.
As a result of their distribution of manga in non-English speaking countries, they are better known as "Planet Manga".
Outlaw Star Manga
Planet Manga's publication of Outlaw Star differs from that of its original publisher, Shueisha Inc. and perhaps, Sharp Point Press. Where the latter staggered the first seventeen chapters of the serialized manga in three volumes, Planet Manga released Outlaw Star in over six volumes, suggesting the last four chapters of the series may have been published in volume format.
Gallery
References